Rental firm parks up on side of A63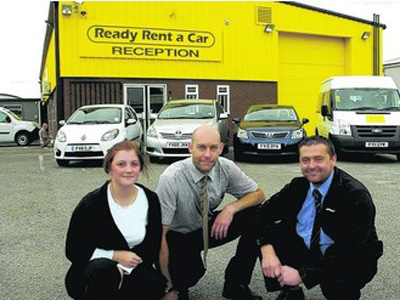 THE director of a car rental firm claims a site by the A63 was too good an opportunity to miss. Ready Rent A Car opened its first branch in Hull last Monday, in the former home of TLS Vehicle Rental in Goulton Street.

Ready Rent A Car already has sites in Grimsby, Scunthorpe and Lincoln. Director Nick Chamley said the company had been exploring the possibility of expanding into Hull for some time.

He said: "We have had an increasing amount of trade coming from across the Humber, particularly to our Scunthorpe branch. "We thought, if people were willing to pay to cross the Humber Bridge to come here to hire vehicles, then there must be a shortage in the area. Where we will be is a great location. We have actually paid more than it was valued at, because that is where we want to be."

The sale was negotiated by Tom Evans, of Scotts Property. Mr Evans said: "This was very symptomatic of how the market is at the moment. It is less about what the land is worth in the market and companies are looking more at what it is worth to their business. It is a very different way of buying land to a developer."

Mr Evans said Ready Rent A Car will benefit from the location, which will be seen by thousands of motorists using the A63 every day. "It is a great location by the roadside. Goulton Street and Witty Street are already well-developed areas and there is not a lot of land out there. You also have companies that have been there for years who won_apos_t give up their position easily. Sites like this don_apos_t come around very often."

Six people will be employed at the site, which will have about 500 vehicles for hire. Mr Chamley said the car rental market is "consistent", despite the financial climate. He said: "We had been looking at opening another branch in either Hull or Doncaster. We have been in business for more than 40 years and have had nice, steady growth. We have always started off quite small and then saturated an area before moving on to the next area, and that will be the plan for Hull."